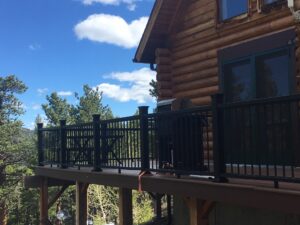 Years ago, my husband and I discussed our dream house – where would it be, what would it look like.
"I want a house in the mountains. More than anything, I want to have a deck where I can hang out and see the mountains."
Years later, we got that mountain home in Nederland and the deck to go with it. One of our favorite things about summer up here is enjoying time on our deck.
Decks are part of what make mountain homes so desirable. What is better than enjoying coffee in the early morning while sitting on your deck? Or maybe an evening dinner on a sunny evening in July?
It's the ultimate accessory to a mountain home.
But decks can make your home incredibly vulnerable to wildfires.
A common question I get is "Will replacing my deck with composite decking make it fire proof?"
The short answer is no. The most common types of composite decking are only slightly more ignition resistant than wood, and when it burns, it burns much hotter and longer. If you are replacing your deck, check the Flame Spread Rating for the type of decking you choose. The lower the rating, the better. Keep in mind, if you are replacing or changing your deck, you will need a building permit and will need to comply with county building codes.
Because decks are attached directly to your home, if they catch fire, they can ignite your home easily. Decks are made of combustible materials which can easily ignite through ember showers. When embers blow against your house, they will accumulate on your deck and smolder at the deck to wall junction. Embers can also get trapped in the gaps between the deck boards. Rotten deck boards can accelerate this process. The same holds true for rotten fascia board on the edge of your deck. By replacing these, your deck will be more resistant to embers and fire.
Any combustible debris or items on your deck will make your deck and home more vulnerable. It's imperative during wildfire season that your remove anything that could catch fire from the deck when you are not at home. This includes seat cushions, straw mats, rugs, and of course, pine needles. Deck furniture is often overlooked as when thinking about combustible items.
One of the most heartbreaking stories I heard was at a recent training. A house caught fire because embers set a straw broom on fire that was sitting on the deck.
Finally, it's not just the deck itself but it's elevated surface and space below that makes it more susceptible.
A good way to make your deck and home safer is to check underneath the deck. Make sure it is clear of vegetation, leaves, and pine needles. Many people like to store construction materials or other items underneath the deck. These combustible materials can catch fire and then ignite your deck.
Installing a noncombustible barrier underneath and 2-3 feet out from your deck will help protect your deck and your home. Similar to the perimeter of your home, laying weed barrier and gravel will do the job.
For an added layer of safety, you can even install 1/8-inch screening around the space underneath your deck. This will prevent embers from getting through.
By taking these steps, you can enjoy your deck with peace of mind this summer, knowing you have taken steps to protect your deck and home from wildfires.