The information on this page applies to homeowners located in West Boulder County
Individual Home Assessments West Boulder County
Boulder County's Wildfire Partners program offers free home assessments to all eligible homeowners of west Boulder County. However, if you live in a high-density community characterized by multiple homes less than 60 feet apart, or in a community that has a communal land-ownership structure, we encourage you to read more about our Community Mitigation model.
Eligibility Criteria
Your home is located in unincorporated west Boulder County (west of Highways 36 and 93). This includes the towns of Jamestown, Lyons, Nederland, and Ward.
You own the residence listed on your application. Renters are not eligible to apply. If you are a renter in the program area and are interested in wildfire mitigation, encourage the owner of your residence to apply.
You agree to participate in an individual, 2-hour home assessment. A homeowner must be present and take part in the assessment. Assessments can be scheduled Monday through Saturday, from 9 a.m. to 2 p.m.
We conduct an individual, on-site, wildfire home assessment. If you are accepted into Wildfire Partners, you will actively participate in your comprehensive assessment with a Wildfire Mitigation Specialist. Together, you will examine areas on the exterior of your home vulnerable to wildfire risk as well as the trees and other vegetation in your defensible space zones. The Specialist will mark vegetation for removal according to Colorado State Forest Service guidelines and take notes and photos documenting your discussion and their analysis. You will also discuss emergency preparedness and planning specific to your needs.
The assessment takes about 2 hours to complete. Assessments are conducted year-round weather permitting.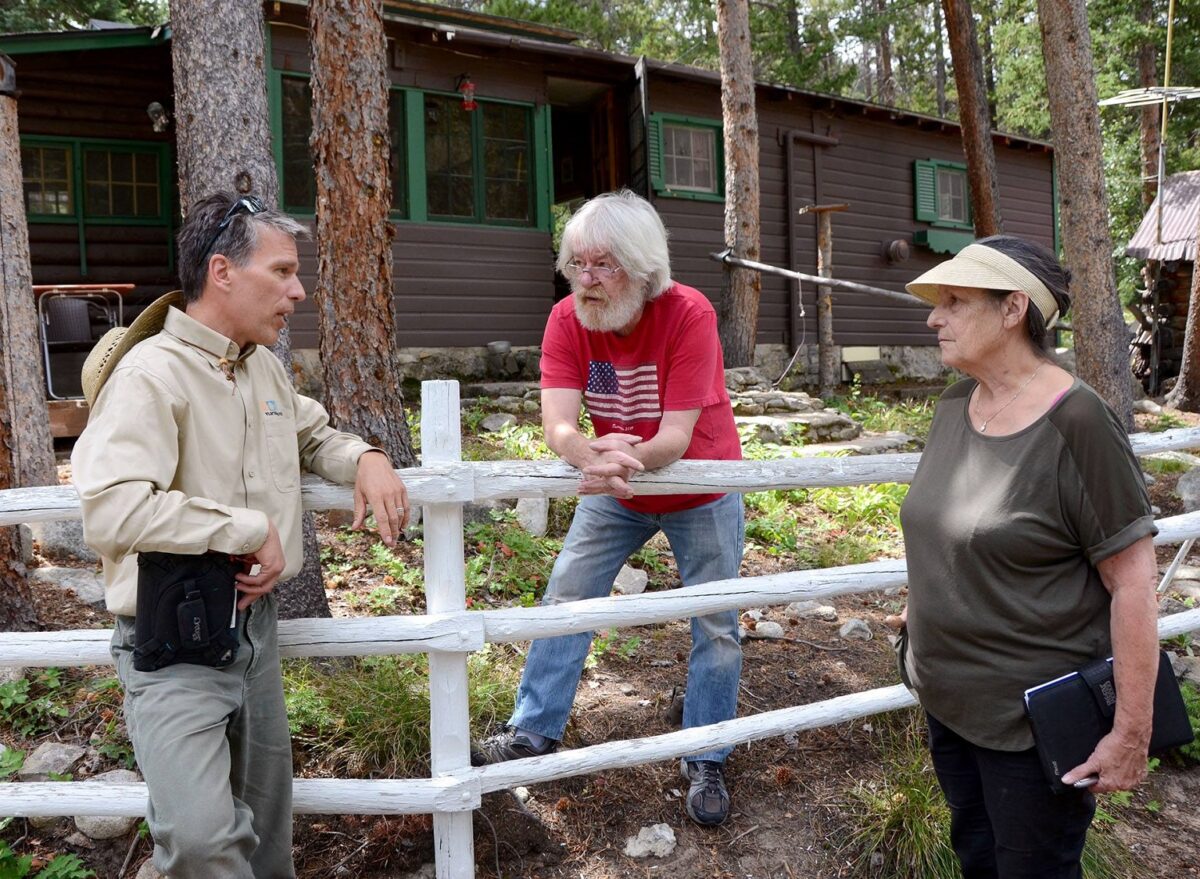 We provide a customized report that identifies the weak links in your home's defenses. A report detailing specific actions you should take to reduce your home's vulnerability to wildfire will be emailed to you within ten days of your assessment. This report will include your comprehensive mitigation checklist, photos documenting action items, and additional information on wildfire mitigation and preparedness.
Financial awards are available to subsidize the cost of hiring a Wildfire Partners Forestry Contractor. Our program receives grant funding from the Colorado State Forest Service and Boulder County. These funds provide financial assistance for forestry work through an approved contractor.
You will receive details on your eligibility for a financial award with your assessment report.
Participants must submit a bid to us from an approved forestry contractor to receive financial awards.
The standard award is not means tested and requires no separate application.
The standard award is 50% of the contractor's cost. The maximum award Wildfire Partners will pay is $2,000.
Participants with limited incomes can apply for a need-based award that covers additional costs.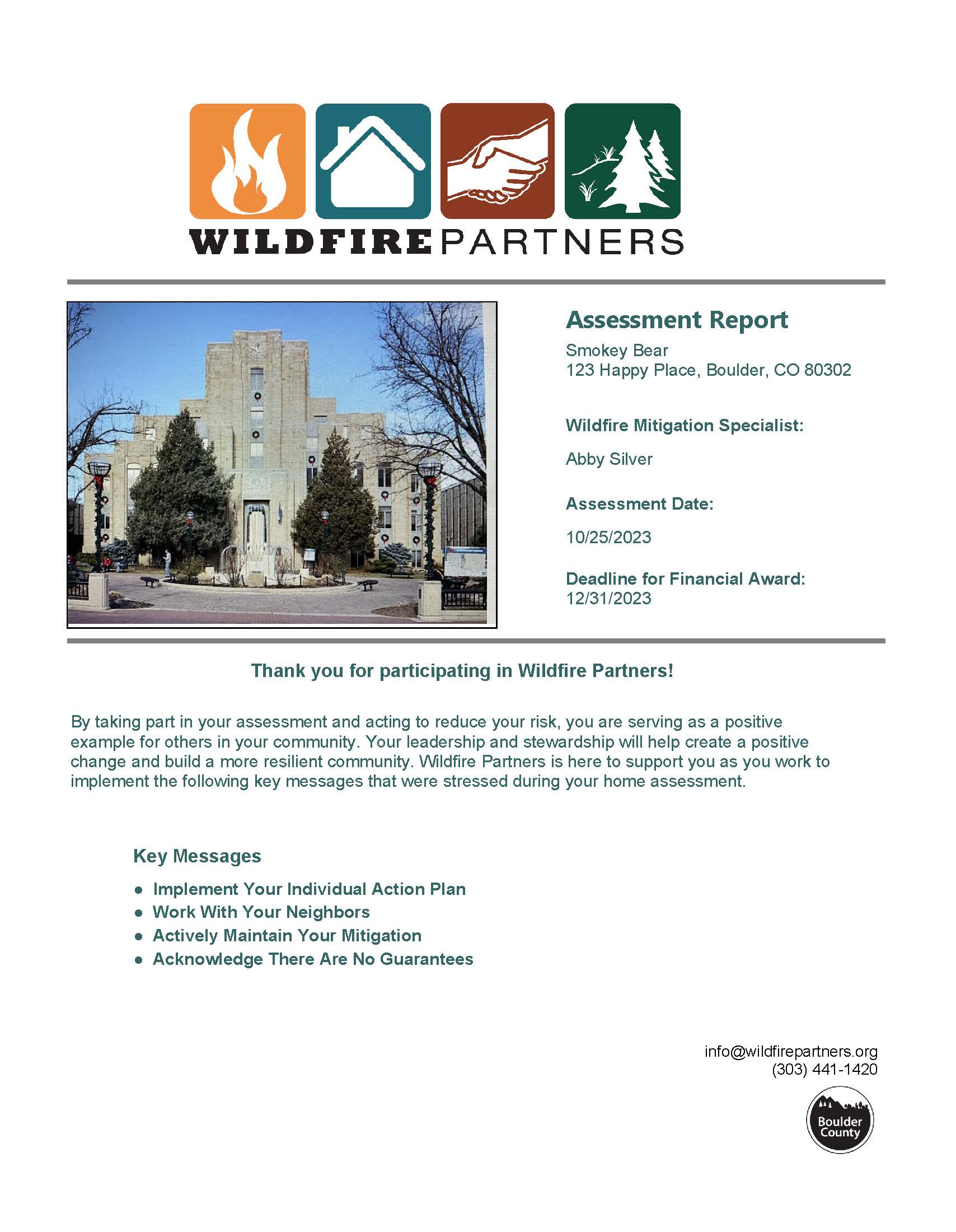 ---
You receive free access to Wildfire Partners Advisors. Advisors are available from 9 a.m. – 4 p.m., Monday-Friday, to answer questions and provide information about our program. You can reach us at 303-441-1420 or by email at info@wildfirepartners.org.
---
We provide a Wildfire Partners Certificate and yard sign states that you have mitigated your home. After successfully completing your mitigation checklist, please call us to schedule your one-hour final inspection.
After passing the inspection, you will receive your certificate and a Wildfire Partners yard sign. The certificate can help participants obtain or maintain insurance. The certificate can also be uploaded to your MLS listing to help you sell your home.
You will have increased peace of mind. By completing mitigation actions, you can feel good knowing you have acted responsibly to help protect your family and your community. However, wildfire mitigation is not a one-time event; you must maintain mitigation for it to be effective. You can always contact us to schedule a re-certification of your property. There is no charge for re-certification assessments.
Join your neighbors and become a Wildfire Partner! Be a positive role model for others and help create a more resilient community.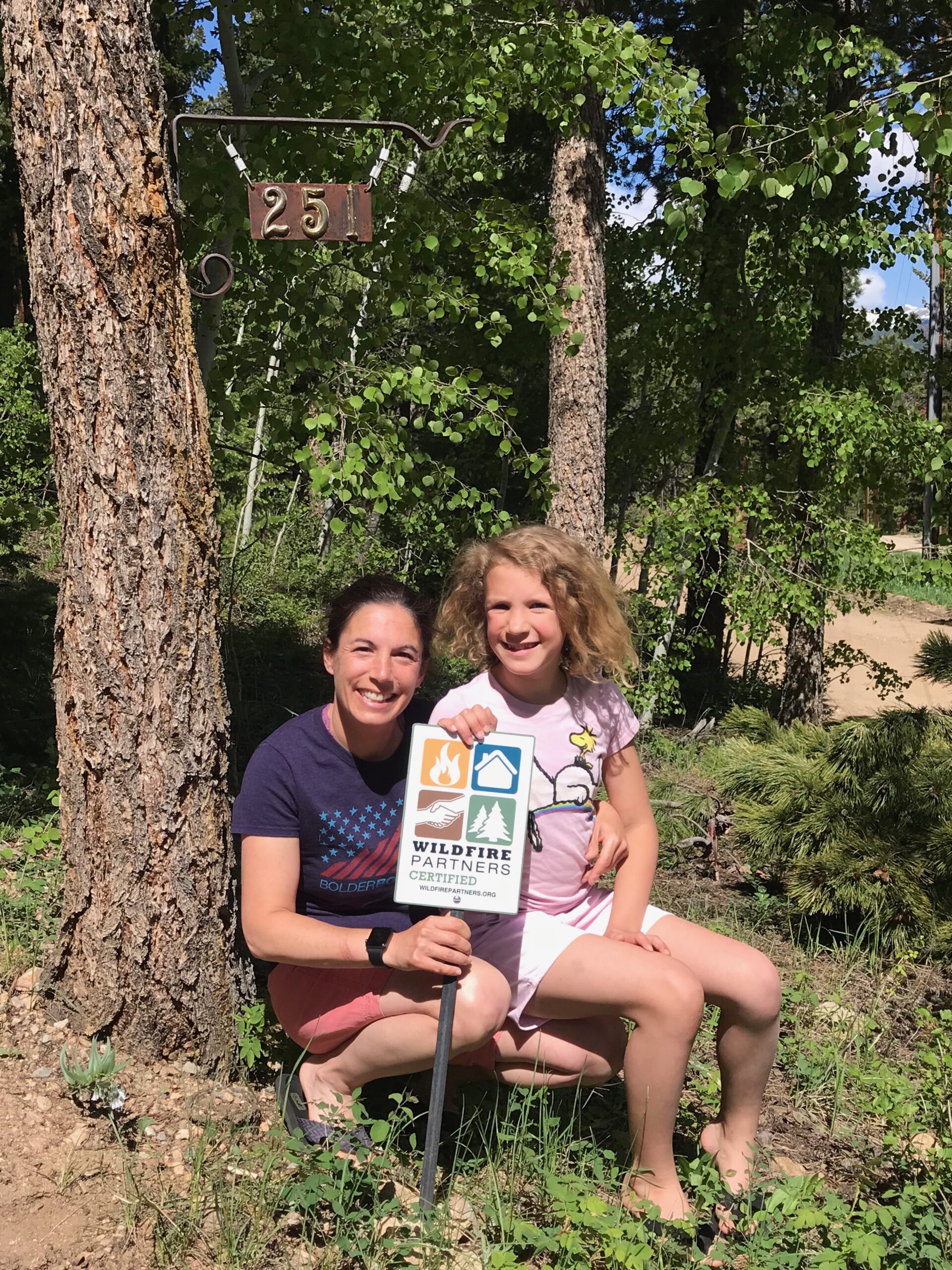 Apply Now and begin your journey to having a more resilient home and community.