Wildfire Partners is a Boulder County program to help homeowners mitigate their properties and prepare for wildfire. This popular program is funded by Boulder County as well as Colorado State Forest Service and FEMA grants.
Wildfire Partners assists all Boulder County mountain and foothills homeowners. Whether you own a new home or an old home, or have performed mitigation in the past, we can help. We can even support residents who have had difficulty obtaining insurance or selling their home.
Wildfire Partners is a nationally recognized model for wildfire mitigation that is incorporated into Boulder County's building code.
Why You Should Apply
It is your responsibility to mitigate your home and property in advance of future wildfires. However, you don't have to take on this important task by yourself. Wildfire Partners is here to help you. More information about the program process is available.
We offer motivated homeowners the following benefits:
An individual, on-site, wildfire home assessment. If you are accepted into Wildfire Partners, you will actively participate in your comprehensive assessment with a Wildfire Mitigation Specialist. Together, you will examine the trees and other vegetation in your defensible space zones, as well as areas on the exterior of your home vulnerable to wildfire risk.
The specialist will mark vegetation for removal according to Colorado State Forest Service guidelines, and take notes and photos. The assessment takes about 2 hours to complete.
Assessments are conducted year-round weather permitting.
A customized report that identifies the weak links in your home's defenses. A report detailing specific actions you should take to reduce your home's vulnerability to wildfire will be emailed to you within one week of your assessment.
This report will include your comprehensive mitigation checklist, photos documenting action items, and additional information on wildfire mitigation and preparedness.
Financial awards are available to subsidize the cost of hiring a Wildfire Partners Forestry Contractor. Our program receives grant funding from the Colorado State Forest Service and FEMA. These funds help provide financial assistance to eligible homeowners for forestry work through an approved contractor during summer and fall. You must submit a bid to us from an approved forestry contractor to receive financial awards. Financial awards are capped at 50% of the total cost and do not exceed $2000.00.
Free access to Wildfire Partners Advisors. Advisors are available from 9 a.m. – 4 p.m., Monday-Friday, to answer questions and provide information about our program. You can reach us at 303-441-1420 or by email at info@wildfirepartners.org.
A Wildfire Partners Certificate and yard sign stating that you have mitigated your home. After successfully completing your mitigation checklist, please call us to schedule your one-hour final inspection.
After passing the inspection, you will receive your certificate and a Wildfire Partners yard sign. The certificate helps participants obtain or maintain insurance. The certificate can also be uploaded to your MLS listing to help you sell your home.
Increased peace of mind. By completing mitigation actions, you can feel good knowing you have acted responsibly to help protect your family and your community. However, wildfire mitigation is not a one-time event; you must maintain mitigation for it to be effective. You can always contact us to schedule a re-certification of your property. There is no charge for re-certification assessments.
Join your neighbors and become a Wildfire Partner! Be a positive role model for others and help create a more resilient community.
Apply Now and begin your journey to having a more resilient home and community.
Apply Now
"Working with Wildfire Partners was wonderful! They were professional, knowledgeable and helpful throughout the process. I also gained a better understanding of steps to take to maintain the defensible space that I have established around my home."
— Wildfire Partners Homeowner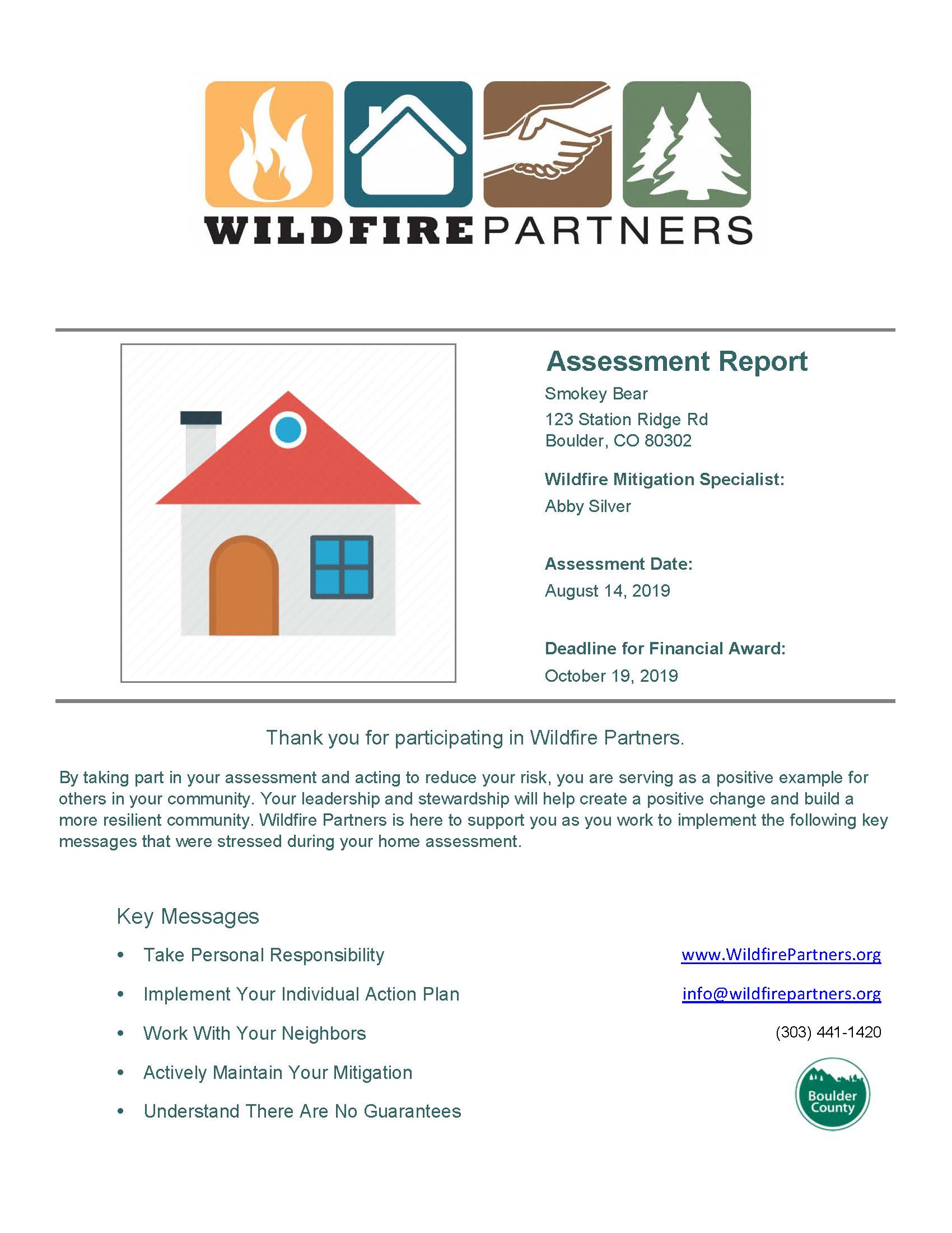 "Very much appreciate the support and education provided by Wildfire Partners, I could not have done it without you AND I'm totally inspired to maintain what I have created. Even had two firefighters who told me they would now, after mitigation work, "defend" my space…"
— Wildfire Partners Homeowner