If your neighborhood is anything like mine, you've been seeing a lot of sawing, splitting and stacking going on the last few weeks. As we enter the month of September, everyone's assembling their wood pile for the winter. If you are entirely dependent on wood stoves for heat, that pile could include several cords.
But from a wildfire mitigation perspective, where should you be stacking your wood?
We've had a pretty quiet summer on the Front Range wildfire wise. Though we've had many a day filled with smoke from fires in California, there have been few fires in the immediate vicinity. As we move towards fall, it's easy to be lulled into a sense of complacency. But just eleven years ago, the Fourmile Canyon Fire burned down more than 160 homes, starting on Labor Day. And just last year, we had two fires that threatened thousands and destroyed 20 homes in the month of October.
So as you stack your wood for the winter, keep wildfire mitigation in mind.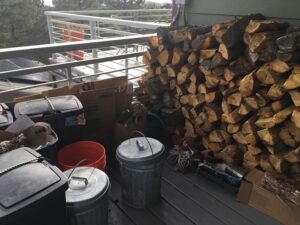 Your firewood pile should be stacked more than 30 feet away from your home. Stacking on the front porch, under the deck, on the deck, against your house or shed are all discouraged when it comes to storing firewood. When wildfire embers accumulate in your wood pile, they will slow smolder, eventually igniting a fire that could destroy your home. Remember even in the middle of winter, during dry periods a fire can break out any time, like the Olde Stage Fire of 2009.
I can hear some of you groaning right now, thinking, "I don't want to schlep my wood back and forth to the house for my wood stove!" This seems even more arduous during snowstorms.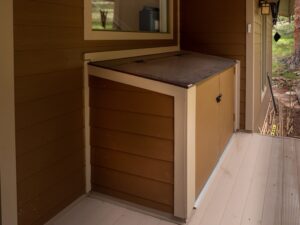 If you'd like to store some wood on your deck or porch, consider using a storage box constructed of noncombustible materials. A metal box with a tight fitting lid will mitigate your fire risk and keep your wood close by. One ingenious homeowner used a metal tank used to water livestock and crafted a lid for it. Another homeowner with handyman skills build a box constructed of Hardieboard (fiber cement board) on their front porch (see photo). A budget friendly option would be to purchase a metal garbage can with a lid. A nearby garage is another possibility for storing small amounts of wood.
For your main wood pile, keep in mind the following:
More than 30 feet away from all structures, including accessory structures such as sheds and detached garages.
Preferably uphill or at the same elevation as your home. A pile downhill from your home could provide fuel for a larger fire that will draw quickly uphill towards your home.
An open area with no trees is preferred. However, if that's not possible, make sure there is 10 feet of clearance between the lowest branches and the top of your woodpile.
Do not stack your wood next to any kind of shrub.
If possible, stack wood on a noncombustible surface. This could be bare mineral soil or crushed gravel.
As you walk around your neighborhood, consider talking with your neighbors about this important mitigation action. Moving wood piles is no easy feat. You could even get together with your neighbors and help each other move your wood piles to safer locations. Your neighborhood will be collectively safer from the threat of wildfire and you might make a new friend.
Putting some time and thought into where your woodpile will go now, will give you peace of mind over the next several months.