Have you ever evacuated in the middle of a firestorm?
It can be a frightening, heart-pounding experience. Not only are you trying calm your nerves as you escape to safety, but you are trying to navigate roads in the pitch dark. You can barely see ten feet in front of your car.
During a wildfire, the blue skies will be blotted out by the thick black smoke, making it hard not only to see the road, but even houses located off the roads.
For most of us, this experience will only last a few minutes. But for firefighters, it can last days and even weeks. One of the main assignments for firefighters during a wildfire is structure protection, trying to save your home. They do so at great risk to their own personal safety. That's why wildfire mitigation matters so much. Mitigation not only gives your home a chance to survive, but makes it safer for firefighters to defend your home. The standard firefighting orders demand firefighters put their safety and the safety of the crews first. Adequate defensible space – clearing trees, trimming grasses and other tasks – can provide a safe zone for them to keep the fire at bay. Having your Wildfire Partners sign posted at the junction of your driveway and road lets firefighters know your home has been mitigated.
But they will only do that if they know there is a home to defend. And a very small, but critical action you can take, is installing a proper reflective address marker. Many of the firefighters are brought in from out of the area, and even out of state during large megafire events like the East Troublesome Fire or Cameron Peak Fire of last year. Having your address marker and Wildfire Partners sign posted at the junction of your driveway and road lets firefighters know your home exists and has been mitigated.
The Sky Hi News noted the importance of proper address markers in a review of the East Troublesome Fire:
Address visibility — meaning homes displaying their address at the end of the driveway with reflective material — also influenced homes that stayed standing within the fire perimeter. Outside the fire perimeter, this effect was even stronger.

With how dark it was and firefighters not necessarily being familiar with the area, reflective and well-placed address numbers likely helped the responders to identify where those structures were.
As I travel the roads in the foothills, I see a lot of decorative addresses. Ones etched into rocks at the base of the driveway, or carved into a wooden plaque. While these are charming, they are not effective during a wildfire.
The address marker takes on even more significance if you have a long driveway where your home is well off the road. This could also save critical minutes if you need an ambulance or other emergency response. And you will enamor yourself to your local UPS and Fedex drivers and get your packages that much quicker!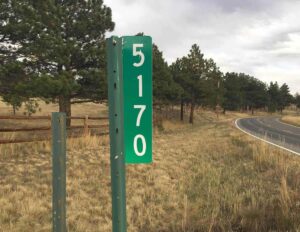 A proper address marker in the wildfire zone should be noncombustible, preferably made of metal. It should be reflective so it can be seen when those conditions are dark as night. Most effective designs are green and white or red and white. You'll probably need two markers or a double-sided one, so that your address can be seen from both directions on the road. Most importantly, mount it on a metal t-post, so that it will remain standing whatever happens.
A lot of homeowners mount their address markers on the trunk of a tree, a wooden fence, or even their wooden mailbox post. The problem with that is if the tree, fence or post burns down, there goes your address marker to the ground.
These reflective markers can be purchased from hardware stores in the area. They also sell the metal t-post. Some local fire protection districts sell or provide them as well. If all else fails, you can order them online. Usually the cost for the marker and metal post is less than $30.
Want to help your community be safer and have some grant funds or extra HOA funds? Coordinating a community work day and mounting these reflective address markers throughout your neighborhood is a great way to help out.
A small, but mighty action that may just help save someone's home one day.