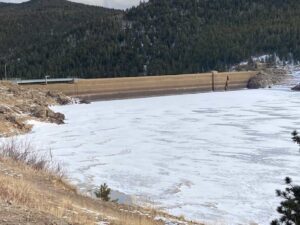 How low can it go?
It doesn't look like a lake anymore. The image that comes to mind is a dried up mud puddle, thirsting for water. Lines mark the parched banks showing where water used to be just a mere eight months ago. In all my time in Nederland, I'd never seen it this low.
As a longtime resident to Nederland, Barker Reservoir is a fixture. It's the first thing you see as you crest the hill driving up from Boulder Canyon. The scene is a beautiful one with the snow capped Indian Peaks in the background, sunlight glinting off the water.
The dried up reservoir is just a symptom of a larger problem — Colorado is in severe drought. It's hard to believe that last winter brought heavy snows to the foothills, with Nederland receiving almost 190 inches of snow and nearby Boulder getting more than 150 inches.
But the precip shut off last summer starting in June. With no summer monsoon followed by a dry and windy La Nina winter, Colorado is thirsting for water. According to the state's drought monitor, the entire state of Colorado is officially in drought, with the Boulder County foothills in what's known as "Extreme Drought." It's the worst drought since 2002, and the second worst in several decades.
Climatologists at NOAA say it would take 10 – 20 inches of precipitation over the next six months to pull us out of this quagmire. Since it's more likely to get snow in the spring, that equates to 10+ feet of snow. Given the long term outlooks from the National Weather Service are calling for more warm and dry weather in the months ahead, it's not looking good.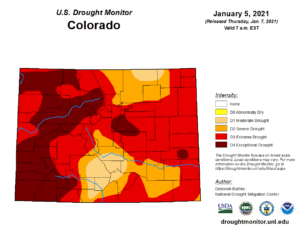 So what does this mean for those who call the foothills home? And more importantly, what does this mean for wildfire mitigation?
We know from the last six months of 2020, that these dry conditions produced two of the biggest wildfires in Colorado's history, the Cameron Peak Fire and East Troublesome Fire. If the drought continues, we can expect more of the same for the summer of 2021.
Now, more than ever is the time to be aggressive with defensible space. Not only will thinning the forest mean protecting your home, but also help the long-term survival of the trees that you keep. As you examine the existing trees, consider cutting trees that are diseased or decaying, as well as that are poorly favored in terms of sunlight and water. Drought-stressed trees are more vulnerable to disease and insect infestations. By eliminating some of the competition, you give the surviving trees a better chance of staying healthy.
Drought-stressed trees will be shedding brown needles more frequently. Raking needles away from your house, underneath porches and decks, and underneath your trees will be critical. Check roofs and gutters for needle cast as well.
In terms of landscaping, this year is not the year to plant new shrubs or gardens, which require water. Colorado water law prohibits the use of household use well water for outdoor purposes. The water we use takes away from badly needed water for agricultural purposes in other parts of the state. Homeowners on household use wells may collect rain water in cisterns, but right now that is in short supply. Consider a more natural environment around your house and keep your grasses trimmed short during these dry periods. Need another reason to conserve water? Wells can run dry during periods of extreme drought.
Finally, take heart. While things can feel bleak at the moment, weather can change. During the 2002 drought, conditions were even worse than they are now. But the mega snowstorm of March, 2003 brought 7-8 feet of snow to the foothills over the course of three days, breaking the drought. We can only hope!