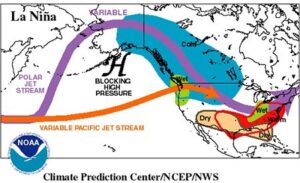 I remember my first winter in Nederland.
It was the night before Thanksgiving. I woke up at 2 a.m., because I literally felt the house moving, creaking.
The wind was howling.
I got up and stared out the upper windows that faced west. Huge lodgepole pines were bowing back and forth from the force of the wind. I stood transfixed, trying to understand how this was possible.
I felt so rattled by the buffeting of the house that I couldn't go back to sleep. Is the roof going to blow off the house?
The only thought that comforted me was reflecting on the age of our house. It was 20 years old, surely it had withstood other storms as windy as this. They must have built it to withstand this kind of stormy weather.
After ten years of Nederland winters, I can assure you it's not the snow you need to worry about, but the winds.
If you're new to the foothills, hang on to your hats.
Because the winter forecast says it's going to be a La Nina winter. For the Front Range foothills, La Nina means strong Chinook winds with below average snowfall. Chinook winds are warm, down sloping winds that melt the snow quickly. Chinook literally means "snow-eater."
In short, a La Nina winter can lead to increasingly drier conditions even in the middle of winter. And with all the winds, come downed trees, downed branches and lots of pine needles.
During La Nina, storms tend to come out of the northwest, drenching the Pacific Northwest, bringing snow to the Northern Rockies. But upslope storms, which bring most of the snow to the foothills, especially in spring, tend to be few and far between.
There can even be wildfires in the middle of winter during La Nina. Look no further than the Olde Stage Fire of January, 2009. The windy conditions brought down powerlines that led to starting two separate wildfires. The warm, Chinook winds gusted up to 60 miles per hour, fanning the flames and growing the fires. Collectively, the two fires burned over 6,000 acres.
The Front Range is already in drought. Add a windy, drier than normal winter, and it portends a dangerous wildfire season for 2021. The La Nina Winter of 2011-2012 brought one of Colorado's most destructive wildfire season in 2012 with the High Park, Waldo Canyon and Black Forest Fires.
Weather can be fickle and for every trend, there can be exceptions. It's worth nothing during a the La Nina in 2000-2001, snowfall for the Front Range resulted in more normal snowfall. La Nina winters can also bring above normal snowfall to areas west of the Continental Divide like Winter Park, Colorado. Sometimes, these storms can blow over and dump snow in areas like Brainard Lake and Eldora.
It can be easy during winter to let down your guard regarding wildfire mitigation. This is not the year to get lax about regular maintenance during the winter. If you're stacking firewood near your home, make sure to use a noncombustible storage box (metal, Hardieboard). Stay on top of branches, needles and other debris that may accumulate on your roof and in your gutters. Sweep needles off your deck and rake or blow them away from your home's foundation.
It's been a long summer and fall. A lot of us feel exhausted by the recent Boulder County fires, and want nothing more than months of snow to forget about it.
But if the past is a predictor of the future, this winter and the ensuing spring make it imperative that we stay vigilant about wildfire mitigation.