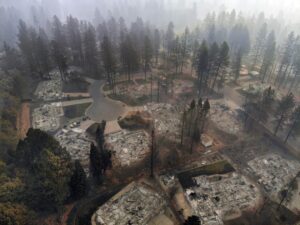 Piles of ashes surrounded by green trees.
These are the enduring images I take away from photos of recent wildfires like the Camp Fire in Paradise, California.
As a mountain resident, it's hard to wrap my brain around these photos. How is it possible for a house to burn down when the trees around it never caught on fire? Isn't cutting down trees a central principle of wildfire mitigation?
As it turns out, studies of recent wildfires show it's much more complex than that. Cutting down trees is important, but by itself, may not be enough to save your home.
The Danger of Embers
These studies (including Boulder County wildfires) show that most homes ignite not through direct flame contact, but from ember showers. During the Fourmile Canyon Fire in 2010, 83% of home were destroyed by surface fire (embers and ground fire) according to the U.S. Forest Service.
Jack Cohen, esteemed fire research scientist, puts it best, saying ""When we look at the big flames but not the firebrands, we miss the principal igniter and pay attention to the show."
Ember showers can blow miles ahead of the flame front of the actual wildfire. These small firebrands can shower your house, permeating any small gap or crack. Once these embers get inside your house, they can set your curtains, sofa or rug on fire.
If you've done a good job of sealing off the gaps and cracks, the embers will slide down the walls of your house and smolder at the base of your walls or on your deck. If you have anything combustible in that area — plants, pine needles, flower boxes, wooden patio furniture, firewood or even the siding of your house — they could catch fire and ignite your entire house.
For this reason, Zone 1a, or what the National Fire Protection Association calls "The Immediate Zone"," is considered the most important defensible space around your home. This zone is defined as the first five feet around the foundation of your home or if you have a deck, from the edge of your deck.
Taking great care to mitigate this zone properly will go a long way towards protecting your home from being destroyed in a wildfire. I know this can be a difficult adjustment for people who are new to the mountains of Colorado, having moved to Colorado from the suburbs of Washington, DC. In our suburban neighborhood in Maryland, we deliberately landscaped those first few feet around our house to provide privacy and give "curb appeal" to our house. I remember planting lilacs, hedges and flowers right under our windows.
Unfortunately, research shows that kind of landscaping significantly increases the chances of losing your home in a wildfire. A video of from the Insurance Institute shows how and why.
What steps can you take?
Ideally, any and all vegetation should be removed from this zone within the first five feet according to current fire science. As plants dry out during the hot days of summer, they become tinder dry, allowing embers to ignite a fire. Even worse is having plants directly below windows, where the radiant heat will likely fracture the glass, allowing fire to get inside your home. If you have noncombustible siding (stucco, stone, Hardieboard, metal), the Colorado State Forest Service advises that widely spaced foundation plantings of low-growing shrubs or other fire-resistant plant materials are acceptable. Make sure not to plant below windows. Colorado State University provides a list of firewise plants.
Water: Environmental Stewardship
Keep in mind that many mountain homes are built with a well and septic system. If your home was built after 1972, it is likely that your septic permit is for "Household-Use Only". This means you are not permitted to use well water for outside use, including gardens. Not sure what your permit says? Check with Boulder County's Septic Smart program to find out. However, you can collect rainwater in a cistern for outside purposes.
Why does this matter?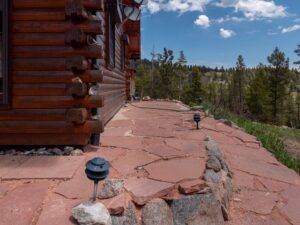 The source of water for Colorado and many other western states, starts in the mountains. Colorado's water is a precious resource. Tens of thousands of people live along the Front Range in the foothills. If we all used our well water to grow gardens, it would dramatically impact the amount of water available for agricultural use in our state and other western states. The protection of water begins in the mountains and our choices directly affect its conservation and sustainability.
After keeping the area clear of vegetation, what else can you do to prevent fire?
A Barrier to Fire
Install a noncombustible barrier to keep ground fire from reaching the siding of your house, and allow embers to extinguish. Think of a noncombustible barrier as your home's protective shell, which could be as simple as bare mineral soil. Most homeowners find from a maintenance perspective, that it makes sense to install some sort of gravel or rock. Make sure to invest in good quality weed barrier, before installing your gravel and don't forget the corners! Make sure you stretch that barrier out the full five feet from the corners of your home as well. See our photo gallery for some creative ideas of how to accomplish this.
Even with a noncombustible barrier, you will likely need to maintain this zone regularly. A leaf blower is a great way to get rid of pine needles or other organic debris.
If you have accessory structures like a studio, detached garage or shed, you'll want to apply these same measures to it as well.
All these precautions can seem like a tremendous sacrifice and take a great adjustment in our thinking of what landscaping should look like. But with careful planning, a well-maintained "Immediate Zone" can be aesthetically appealing, while greatly improving your home's chances of surviving a wildfire.