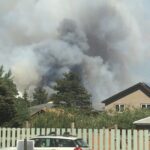 I still remember the day the Fourmile Canyon Fire started.
It was Labor Day, 2010. We were trying to put in a new shed, and the winds were blowing so hard it was difficult to keep a hold of the wood. Suddenly, I saw a huge mushroom cloud arise out of nowhere in what had been a clear blue sky.
I knew instantly what it meant — wildfire!!
When it comes to wildfire, it's not a matter of "if", but "when." Wildfires are part of our natural environment. So if you live in the Wildland-Urban Interface (WUI), sooner or later you will confront the danger of wildfire where you live.
May is Wildfire Awareness Month, and it's a good time to think about how prepared you are.
The goal of getting certified through Wildfire Partners it to make your home defensible against the threat of wildfires.
Whether the firefighters can defend it or not.
Fires need three things to thrive — fuel, oxygen and heat. Take one of those out of the equation, and a fire dies out.
As homeowners, we have no control over oxygen and heat — weather and environment dictates that. But we do have control over fuel, whether it's pine needles on our roof, shrubs growing up against our house, dense stands of conifers, or our house itself.
Recent studies of mega-fires during the last several years show that most homes destroyed during wildfire ignite not from direct flame contact, but instead from ember showers. Ember blizzards can carry several miles away from the flame front. If you can "harden" your home against ember showers, your home may survive even if firefighters can't defend it.
And that will be even more important this year because of Covid-19. All the information coming from local, state and federal agencies is that firefighting is going to be very different this year. Most fires will be fought by local agencies with an emphasis on rapid containment. It will be harder to bring in large groups of firefighters to fight big fires.
So now is the time to complete your checklist and get those mitigation action items completed.
Despite our best efforts, wildfire will happen and will force us to evacuate our homes. This month is a good time to consider emergency preparedness.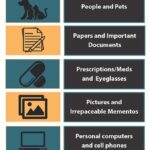 Have you practiced evacuating your home within 15 minutes? During our first two months living in Nederland, a small fire broke out within a mile of our home. The police came to our door, telling us to leave immediately. If you haven't practiced evacuating, it can be daunting trying to remember what to take.
Many people put together "fire boxes" that they store in a set location. These storage boxes contain personal mementos and items of importance that can't be replaced. Along with your fire boxes, it's important to have a "go bag" with enough clothes and essential items to last you for several days if you do get evacuated. A checklist of items on your refrigerator can be a good reminder of what's important to take in the heat of the moment.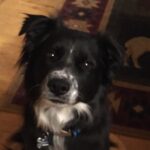 What about your pets? I know for me, that was the first thing I thought of when the Cold Springs Fire broke out. You may not be home or be able to get home to evacuate them. Now's the time to talk with neighbors and friends to make a plan for evacuating pets when you're not at home (at work, on vacation).
Have you signed up to register with Boulder County's Office of Emergency Management? The OEM uses those registrations for reverse 911 notifications of wildfire and mandatory evacuations. You can sign up to get email and text alerts at https://www.boulderoem.com/.
Lastly, make a communication plan for your family during a wildfire event. Oftentimes, power will be cut off and cell phone signals can be challenged. How can you ensure a way to check in? Perhaps getting a message to a family member out of state would be a good idea.
By being more prepared for wildfire ahead of time, you will be less panicked should something happen. You'll know what to do to ensure your home and family is safe, whatever the circumstances are.
That can help give us all peace of mind whatever the wildfire season brings.