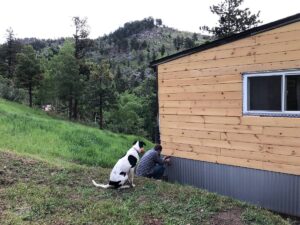 During this time of uncertainty with a public health emergency, wildfire mitigation might be the last thing on your mind.
But make no mistake, wildfire season is coming regardless of the circumstances in the world.
With a county-wide "Stay-at-Home" order in place, doing wildfire mitigation can be a great use of your time.
Using your Wildfire Partners assessment report, you can complete many tasks on your own, so you are better prepared. (If you need a copy of your report, please email or call us.) You should have most of the tools you need in your shed or garage.
Here are some tasks that may be on your checklist that you can tackle on your own. If you don't have all the materials, we suggest ordering online or using curbside pickup  to protect public health.
Roofs
Remove debris from your gutters. Pine needles accumulate during the windy days of winter. From a ladder, use a trowel or small rake to clean out debris.
Remove bird nests from under your eaves or the side of your home. It's best to do this sooner, before migrating birds return to Colorado.
Walls/Siding
Caulk and patch gaps and holes in your siding. All you need is a good caulk gun (and caulk) or woody putty. There are special products you can order online to chink gaps in wood and log homes as well.
Mitigate vents – Vents such as gable vents and soffit vents need 1/8-inch screening to keep embers out during a fire. This screening is commonly referred to as "hardware cloth" and can be ordered online from the hardware store.
Dryer vents should be louver-style and can be ordered from hardware stores as well.
Garages – Install or replace weather stripping at the bottom of the garage door to keep embers out.
Decks
Replace rotten deck boards.
Install metal angle flashing between the siding and the deck to prevent embers from accumulating.
Top of the Deck – Remove combustible items and debris from the top of the deck and in between deck boards. This includes rugs, mats, flower boxes and/or containers with woody debris or dead plants. Sweep pine needles and leaves off the top of the deck and in between deck boards.
Below the Deck – Rake or blow pine needles and other combustible debris. If you are storing items below your deck, relocate them to a shed, garage or storage spot at least 30 feet away from your home.
Home retrofit work may be the most important mitigation work you do. During a wildfire, the majority of homes are destroyed due to ignition through ember showers. By completing these tasks early in the spring, you can know you have done your part to protect your home and community.